Roll over image to zoom in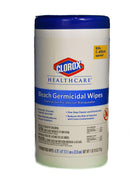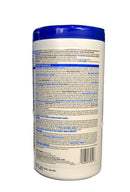 Description
Healthcare bleach germicidal wipe. Fast, broad Spectrum efficacy on 51 microorganisms in 3 minutes or less. 30 second kill times on 30 bacteria. 30 Seconds to 1 minute on 14 viruses. 3 minutes on C. Difficile spores, TB and fungi. Clorox understands that bleach's odor can be irritating to some people. Our wipes are made with a proprietary odor-masking formula to create a slight bleach scent that is comfortable for patients and staff. Applications: use with confidence on medical equipment surfaces. Clorox healthcare bleach germicidal wipes contain a corrosion inhibitor and have been tested for compatibility with most hospital grade surfaces, including: Stainless steel, plastic, glazed ceramic, glass, porcelain, ideal for surfaces such as: glucometers, ekg/eeg leads, Stethoscopes, ultrasound equipment, Digital tablets, oximeters, IV poles and pumps, keyboards/mice, telephones, blood pressure monitors, other similar handheld devices. A simple 3 step disinfection protocol for small surfaces and medical equipment. Avoid contact with: fabric, wood, Natural rubber, painted and paper surfaces. Helpful tips: if visible residue is noticed, it can be easily removed with a clean, damp cloth. Sanitize hands when finished. If gross filth is present on surfaces, remove first with a germicidal wipe, then follow up with another wipe to disinfect. Do not use on Silver or chipped enamel. Consult the product Label and your product manufacturer's guidelines if you have questions on specific surfaces. Clean and disinfect patient rooms, coated Mattress covers, bed areas, counters, ledges, sills, bathroom and shower fixtures. Perform hand hygiene using Clorox hand sanitizer, then put on gloves and protective eyewear. After removing Trash and can liner, use Clorox healthcare bleach germicidal wipes to wipe all surfaces of the waste container. Allow items to air dry.
Healthcare Associated Infections (HAIs) are constantly evolving, and that's why Clorox Healthcare Bleach Germicidal Disinfectants are, too.

Whether you choose our wipes, spray or liquid cleaner, an improved formulation maintains fast disinfection efficacy while improving surface compatibility and residue profile to meet the needs of a changing healthcare environment.

Built to kill nearly 60 microorganisms in 3 minutes or less, our cleaners are ready to use and proven to be effective in the battle for a germ-free facility.

Use Sites: Medical, Dental, Veterinary, Laboratory, General use.
Payment & Security
Your payment information is processed securely. We do not store credit card details nor have access to your credit card information.
Based On This Product, You May Also Like